When you come to the end of your rope, tie a knot and hang on. ~Franklin D. Roosevelt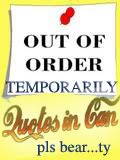 Can you see those special characters (   , ') on my blog??  Well, I still don't know how on earth they landed on every post I have here. It all happened after I upgraded to wordpress 2.2!  I've been asking support from
BlueHost
.
Twenty hours
has passed and still,
no word
from them! Aghh! Patience, patience…Two hours ago, I received an email from their support center, asking me to provide them the last 4 digits of my
credit card
I used to create my account. 
How
would I know
if it's a legitimate request
? What I couldn't understand is, why do they have to ask for my credit card when I have given them my password for my BlueHost's control panel?? I wrote them again regarding this matter, to verify if it's a valid request …
BlueHost
– "mum", "sleeping"???
Let's be careful about giving out informations especially regarding our credit cards. There are a lot of phishing  attempts going around the net. I repeat, attention!!!
Luckily, GoogleBot  came in to my rescue giving me some important links about upgrading wordpress. I don't know him personally but he was kind enough to give me a hand. Thank you GoogleBot!
I'm still working on this "enigma" by browsing different forums with similar problem, disactivating my plugins, etc
Please bear with me…just ignore those               , okay?
I'm hanging in here BlueHost!!
p.s.
I'm going to sleep now, wishing tomorrow a miracle will happen!    
 Since I'm still waiting for my web host's support to my predicament and I'm supporting  the  trouble of editing all my posts by deleting those special characters…I'm sharing some>>>>
SUPPORT QUOTES
Fall seven times, stand up eight." -Japanese Proverb
When you get into a tight place and everything goes against you, till it seems as though you could not hang on a minute longer, never give up then, for that is just the place and time that the tide will turn." -Harriet Beecher Stowe
The world is round and the place which may seem like the end may also be only the beginning." -Ivy Baker Priest
What lies behind us and what lies before us are tiny matters compared to what lies within us." – Ralph Waldo Emerson
Most of us, swimming against the tides of trouble the world knows nothing about, need only a bit of praise or encouragement – and we will make the goal." Jerome Fleishman
It is not the mountain we conquer but ourselves." – Edmund Hillary
Pain is inevitable. Suffering is optional. " M. Kathleen Casey
If you're going through hell, keep going." -Winston Churchill
If one dream should fall and break into a thousand pieces, never be afraid to pick one of those pieces up and begin again." – Flavia Weedn
A bend in the road is not the end of the road… unless you fail to make the turn." – Author Unknown
The robbed that smiles, steals something from the thief." – William Shakespeare, Othello
I know God will not give me anything I can't handle. I just wish that He didn't trust me so much." – Mother Teresa
We acquire the strength we have overcome." – Ralph Waldo Emerson
Some luck lies in not getting what you thought you wanted but getting what you have, which once you have got it you may be smart enough to see is what you would have wanted had you known." – Garrison Keillor
I ask not for a lighter burden, but for broader shoulders." – Jewish Proverb
We must embrace pain and burn it as fuel for our journey." – Kenji Miyazawa
Adversity is like a strong wind. It tears away from us all but the things that cannot be torn, so that we see ourselves as we really are." – Arthur Golden, Memoirs of a Geisha
Filed under: CREDIT CARD, SUPPORT QUOTES, WEB HOST, WWW by Ross